Underworld Awakening: Legacy
1:59
Nivell de dificultat:
Intermedi
Underworld Awakening:
Legacy
Did you miss the previous Underworld films, and now want to get the back-story before seeing Underworld : Awakening? You can do that in under two minutes, and pick up some useful vocabulary at the same time, with this "Legacy" clip of the cult Underworld film franchise.
Vocabulari clau
legacy
immortal
ravaged
werewolves
species
vampire
betrayed
emerged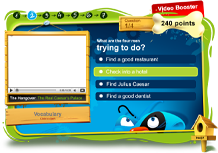 Comença Aprenent Anglès Ara!
Un Video Booster és un exercici interactiu d'anglès, en 6 passos, que t'ajuda a aprendre i practicar els termes de vocabulari anglès, les expressions idiomàtiques i la gramàtica vista i escoltada als video clips.
Free Trial
Prova Gratuïta
Per a reproduir aquest Video Booster, activa la teva Prova Gratuïta de 3 dies. Obtindràs accés a més de 1.000 lliçons d'anglès basades en vídeos com aquesta, així com a tots els nostres diccionaris visuals, i jocs per aprendre anglès.
Vista prèvia del Vídeo
Underworld Awakening: Legacy
4 comentaris