Puss In Boots: You Made The Cat Angry
0:00
Nivell de dificultat:
Fàcil
Puss In Boots:
You Made The Cat Angry
In this scene from the spin-off movie from the Shrek franchise, Puss (Antonio Banderas) shows the other people in the tavern that he is a lot tougher than he looks.
Vocabulari clau
ball of yarn
coming up
humble
score
the Law
reward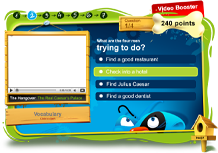 Comença Aprenent Anglès Ara!
Un Video Booster és un exercici interactiu d'anglès, en 6 passos, que t'ajuda a aprendre i practicar els termes de vocabulari anglès, les expressions idiomàtiques i la gramàtica vista i escoltada als video clips.
Free Trial
Prova Gratuïta
Per a reproduir aquest Video Booster, activa la teva Prova Gratuïta de 3 dies. Obtindràs accés a més de 1.000 lliçons d'anglès basades en vídeos com aquesta, així com a tots els nostres diccionaris visuals, i jocs per aprendre anglès.
Vista prèvia del Vídeo
Puss In Boots: You Made The Cat Angry
46 comentaris