Kevin Nealon: Will
1:08
Nivell de dificultat:
Principiant
Kevin Nealon:
Will
Actor Kevin Nealon from the TV series Weeds does a stand-up routine about making his will.
Vocabulari clau
will
gruesome
hypothetical
life support
pull the plug
dimmer
cremated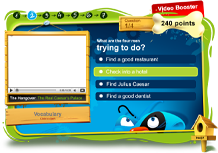 Comença Aprenent Anglès Ara!
Un Video Booster és un exercici interactiu d'anglès, en 6 passos, que t'ajuda a aprendre i practicar els termes de vocabulari anglès, les expressions idiomàtiques i la gramàtica vista i escoltada als video clips.
Free Trial
Prova Gratuïta
Per a reproduir aquest Video Booster, activa la teva Prova Gratuïta de 3 dies. Obtindràs accés a més de 1.000 lliçons d'anglès basades en vídeos com aquesta, així com a tots els nostres diccionaris visuals, i jocs per aprendre anglès.
7 comentaris