The Iron Lady: Non-negotiable
1:11
Nivell de dificultat:
Intermedi
The Iron Lady:
Non-negotiable
The Iron Lady is a surprising and intimate portrait of Margaret Thatcher (Meryl Streep), the first and only female Prime Minister of The United Kingdom and one of the most memorable world leaders of the 20th Century.
Vocabulari clau
maximize
appeal
authority
go the whole distance
persuade
non-negotiable
surrender
strike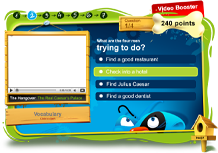 Comença Aprenent Anglès Ara!
Un Video Booster és un exercici interactiu d'anglès, en 6 passos, que t'ajuda a aprendre i practicar els termes de vocabulari anglès, les expressions idiomàtiques i la gramàtica vista i escoltada als video clips.
Free Trial
Prova Gratuïta
Per a reproduir aquest Video Booster, activa la teva Prova Gratuïta de 3 dies. Obtindràs accés a més de 1.000 lliçons d'anglès basades en vídeos com aquesta, així com a tots els nostres diccionaris visuals, i jocs per aprendre anglès.
Vista prèvia del Vídeo
The Iron Lady: Non-negotiable
4 comentaris