Captain America: The First Avenger: The Grenade
0:48
Nivell de dificultat:
Fàcil
Captain America: The First…
The Grenade
In this clip from the highly anticipated film about the Marvel superhero, an underweight recruit (Chris Evans) surprises the tough army training commander, Colonel Chester Philips (Tommy Lee Jones), and Dr. Abraham Erskine (Stanley Tucci), a scientist, with his bravery.
Vocabulari clau
asthmatic
let it slide
bully
guts
dummy
skinny
gerbil
grenade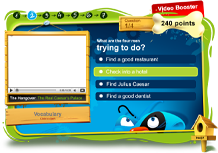 Comença Aprenent Anglès Ara!
Un Video Booster és un exercici interactiu d'anglès, en 6 passos, que t'ajuda a aprendre i practicar els termes de vocabulari anglès, les expressions idiomàtiques i la gramàtica vista i escoltada als video clips.
Free Trial
Prova Gratuïta
Per a reproduir aquest Video Booster, activa la teva Prova Gratuïta de 3 dies. Obtindràs accés a més de 1.000 lliçons d'anglès basades en vídeos com aquesta, així com a tots els nostres diccionaris visuals, i jocs per aprendre anglès.
Vista prèvia del Vídeo
Captain America: The First…The Grenade
16 comentaris