The Cabin In The Woods: Truth Or Dare
0:56
Nivell de dificultat:
Fàcil
The Cabin In The Woods:
Truth Or Dare
A group of teenage friends go for a break at a remote cabin in the woods, where they get more than they bargained for. Together, they must discover the truth behind what is there.
Vocabulari clau
Truth Or Dare
puss out
all along
cellar
sense
dare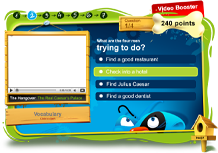 Comença Aprenent Anglès Ara!
Un Video Booster és un exercici interactiu d'anglès, en 6 passos, que t'ajuda a aprendre i practicar els termes de vocabulari anglès, les expressions idiomàtiques i la gramàtica vista i escoltada als video clips.
Free Trial
Prova Gratuïta
Per a reproduir aquest Video Booster, activa la teva Prova Gratuïta de 3 dies. Obtindràs accés a més de 1.000 lliçons d'anglès basades en vídeos com aquesta, així com a tots els nostres diccionaris visuals, i jocs per aprendre anglès.
Vista prèvia del Vídeo
The Cabin In The Woods: Truth Or Dare
5 comentaris