The Big Bang Theory: Long Beach Road Trip
2:35
Nivell de dificultat:
Intermedi
The Big Bang Theory:
Long Beach Road Trip
The boys decide to go to Long Beach in order to keep lying to Penny.
Vocabulari clau
bogart
attend
symposium
crisis
embarrassed
relative
Break a leg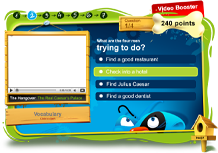 Comença Aprenent Anglès Ara!
Un Video Booster és un exercici interactiu d'anglès, en 6 passos, que t'ajuda a aprendre i practicar els termes de vocabulari anglès, les expressions idiomàtiques i la gramàtica vista i escoltada als video clips.
Free Trial
Prova Gratuïta
Per a reproduir aquest Video Booster, activa la teva Prova Gratuïta de 3 dies. Obtindràs accés a més de 1.000 lliçons d'anglès basades en vídeos com aquesta, així com a tots els nostres diccionaris visuals, i jocs per aprendre anglès.
Vista prèvia del Vídeo
The Big Bang Theory: Long Beach Road Trip
12 comentaris